TRD withstanding 30.000 tons of aqua feed
We are constantly working to push the boundaries
"We always strive to deliver the best solutions
for our customers. A vital part of every aqua feed plant is the
extruder. The solutions provided by TRD Surfaces has given us
a competitive edge in terms of pellet quality, part lifetime and
extruder efficiency."

Michael Mortensen, CEO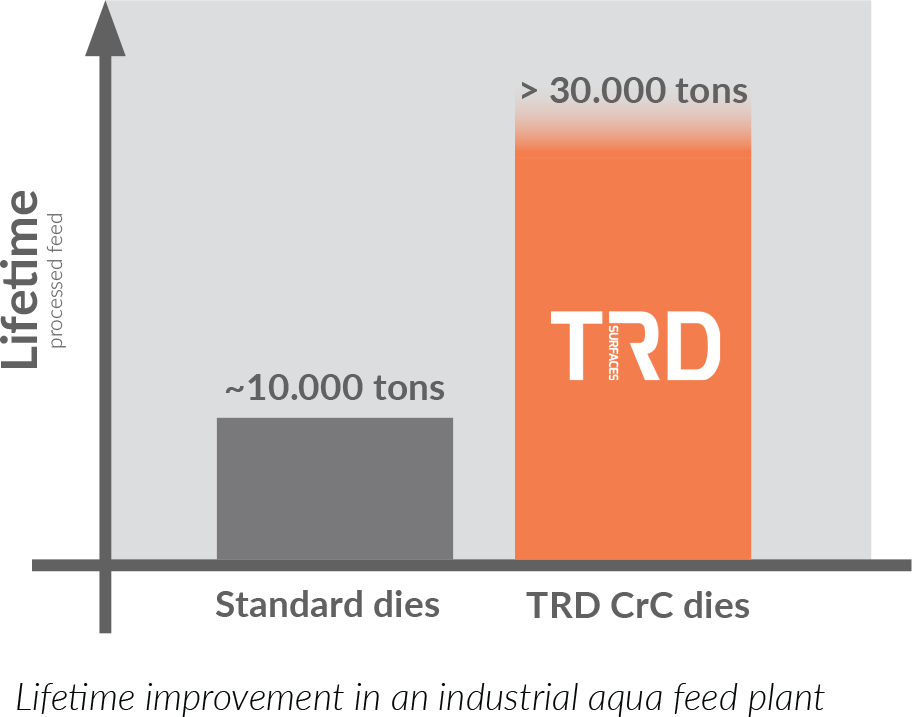 Extruder dies are essential for pellet production within fish feed and pet food industry. As a result of enormous amounts of feed being processed, hardened tool steel dies are worn down and needs to be replaced.

Graintec A/S and TRD Surfaces have teamed up to develop and offer a highly improved die for higher pellet quality, better pellet homogeniety, higher extruder capacity and vastly improved die lifetime.

The solution is a TRD Chromium Carbide (CrC) surface treatment that increases the tool steel hardness fivefold to 2000 HV and decreases friction against the feed. After 30.000 tons of feed being processed, the TRD dies are still in operation.
Advantages:
> More than 3x lifetime improvement
> Higher extruder capacity due to low internal friction
> Significantly better homogeniety of extruded pellets
> Fewer stops for cleaning nozzles
> Improved technical quality (eg. DORIS*)

*DORIS = Durability on a realistic test
Share your ideas and challenges with us, we will do all we can to help.
We are looking forward to hearing from you. 
You are also welcome to cantact the sales manager directly.