Transporting difficult materials
Some raw materials are difficult to transport by traditional pneumatic systems. Raw materials categorized problematic can be oily, sticky, hygroscopic or heat sensitive or have a high oxidation potential.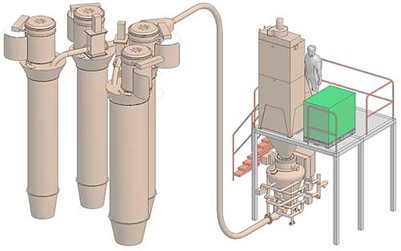 Possible solutions are:
Use dry air as transport media
Use dry and cold air as transport media
Adjust the product/air ratio
Ensure that no condensation takes place in the transport pipe by insulation/tracing
Use nitrogen as cooling agent
Nitrogen as transport media to avoid oxidation
Modify powder intake system if needed
Test products expected to be difficult in a pilot pneumatic system
Design the pneumatic system based on test results
It is important to collect process and product information,
in order to design the correct pneumatic system for difficult raw materials
> Room temperature and humidity variation in actual production area
> Transport distance bendings and pressure drop
> Raw material temperature variation
> Raw material particle size distribution
> If needed, trial results from pilot plant
> Product data sheet
> Physical analyses (Flow ability, density etc.)
Let us know how we can help
We look forward to hear your visions and thoughts. Please fill in the form below and we will get back to you very soon.