Reduce energy and water consumption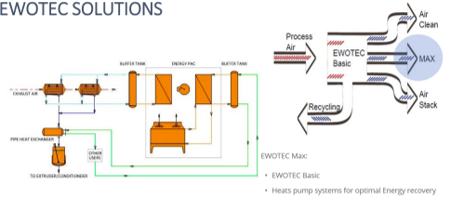 Extrusion followed by hot air drying is one of the widespread production utilities within the pet food and aqua feed industry. In the extrusion process 10% – 20% water is added as a process aid, and this water is removed again in dryers; typically, hot air dryers. The energy consumption of the drying process varies from 45% – 60% of the total process energy, dependent on the dryer type. Unpleasant odorous components are released in the dryer and in the extruder flash off.
This new technology EWOTEC separates water from the dryer and extruder flash off. Many of the odorous components are water-soluble and will follow the separated water and improve the air quality from the dryer and extruder. Fine dust particles will follow the separated water and improve the air quality. Part of the latent heat from the separation is recovered in this process and will bring the process energy consumption down. Finally, all or part of the separated water can be reused in the extrusion process saving water and dry matter.
EWOTEC is a concept for energy reduction, water reduction and satisfies the customer's individual requirements for odor emission reduction.
The basic concept for the EWOTEC solution started with a project team including "Ministry of environment and food of Denmark", and a fish feed and a pet food manufacturer. This concept has now been developed and tailor-made solutions can be offered for existing as well as new factories.
Advantages:
> Up to 80% energy recovery possible
> Odor reduction up to 65%
> Liquid water savings up to 100%
> Need for available heat sinks


Let us know how we can help
We look forward to hear your visions and thoughts. Please fill in the form below and we will get back to you very soon.